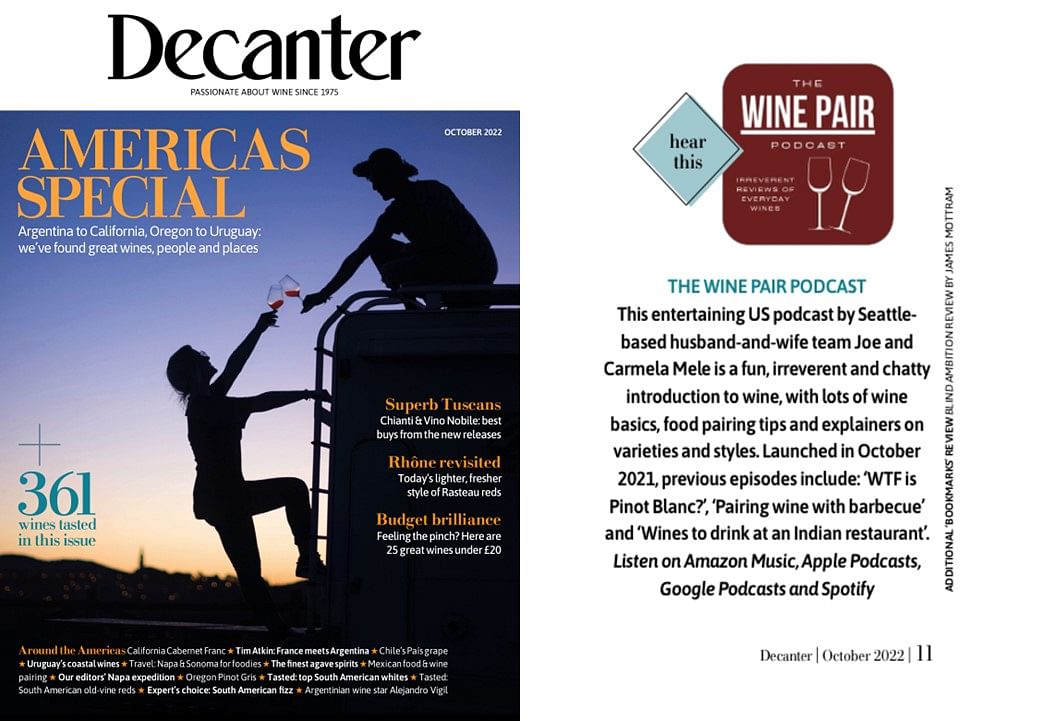 We are thrilled, honored, and humbled to be recommended in the October 2022 issue of Decanter magazine!
Each month, the editors of Decanter magazine list a book ("read this", a movie or TV show ("watch this", and a podcast ("hear this") in the Uncorked section of the magazine. As you can imagine, we were overjoyed to find that The Wine Pair Podcast was their choice for the "hear this" choice.
Here is the link to see it on the website: https://www.decanter.com/wine-news/opinion/the-editors-blog/decanter-bookmarks-what-to-read-watch-and-listen-to-this-month-459552/
Decanter describes our Podcast this way:
"This entertaining US podcast by Seattle-based husband-and-wife team Joe and Carmela Mele is a fun, irreverent, and chatty introduction to wine, with lots of wine basics, food pairing tips and explainers on varieties and styles. Launched in October 2021, previous episodes include: 'WTF is Pinot Blanc?', 'Pairing wine with barbecue' and 'wines to drink at an Indian restaurant'. Listen on Amazon Music, Apple Podcasts, Google Podcasts, and Spotify."
Wow!
For those of you who are not familiar with Decanter magazine, it is a British-based magazine often compared to Wine Spectator. Decanter can be found in both print and digital formats and is published in more than 90 countries, they have a wonderful website, and have their own annual wine competition called the Decanter World Wine Awards.
Thank you, Decanter, for recommending The Wine Pair Podcast!Here is the link to the Wikipedia article: https://en.wikipedia.org/wiki/Decanter_(magazine)